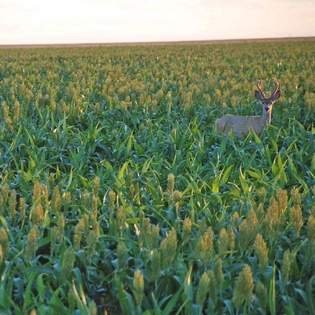 Save water, reduce risk, plant grain sorghum.
"It's one of those ancient crops that's being given another look," said Jesse McCurry, a regional field representative for the National Sorghum Check-off based at Colwich, Kan. "We've got some encouraging signs out there."
Sorghum acreage has been on a slight uptick lately after a downward tapering that started in the mid-1990s. According to USDA's prospective plantings report this spring, farmers in Oklahoma, for example, intend to plant 3 percent more sorghum this year and 19 percent less corn.
That's no surprise to seed dealers in the region.
James Wuerflein has been growing non-irrigated sorghum steadily for at least two decades in Northwest Oklahoma near Kremlin and considers it his most reliable crop. "Rotating crops is how I got into it," he said at a sorghum meeting earlier this spring. "And over time, it's been more profitable than anything else I've grown. If I look at the long-term averages, it gives me better profits than any other crop."
Wuerflein, who is an at-large member of the U.S. Sorghum Check-off board and a Channel seed dealer, noticed early on that farmers in southwest Kansas and northwest Oklahoma were showing more interest in planting sorghum this year.
Another seed dealer, Roger Goodwin, a sales representative for Johnston's Grain Company of Enid, also said he noticed the trend, especially in the north central Oklahoma corridor along Interstate 35.